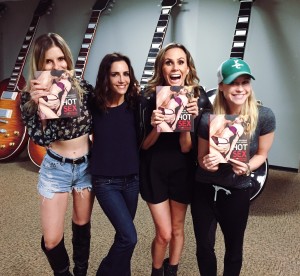 This week, Emily welcomes the three lovely ladies from the LadyGang podcast for an unabashed, no-holds-barred girl talk session. Together, the girls dish on their favorite things to do in the bedroom and share their advice on how to get everything you want from your partner, no matter what relationship stage you happen to be in.
The female foursome (plus Menace) get down and dirty, divulging their sentiments on approaching anal, getting busy in the shower and the most underrated type of kissing. Each of the ladies also answers Emily's 5 top sex questions—topics include turn ons & offs, crazy places to do it and what words make them hot. Then Emily and Menace tackle your emails, answering questions about the return of the ex, freaky fetishes and how to stand out in a sea full of single guys.
If you've ever wondered what makes a woman squirm in bed, or if you're just looking to commiserate with a fellow lady, this show is for you. No sex, love or dating topic is off limits and not one second should be missed!
Subscribe to the LadyGang Podcast on iTunes & follow them on social media:
Instagram: @TheLadyGang
Twitter: @TheLadyGang
www.TheLadyGang.com
Jac Vanek: @JacVanek on IG & Twitter
Becca Tobin: @itsBeccaTobin on IG