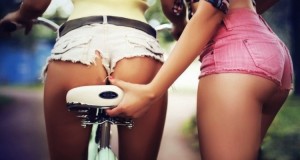 Happy Anal Pleasure Month! This show is dedicated to helping you explore the world of pleasure located right at your backdoor! Whether you're male, female, single or in a relationship, gay or straight, this podcast has tips for everyone. Despite its recent rise in popularity, anal sex still has a bad rap. Luckily, Emily addresses your questions and helps you to face your backdoor fears! Also, Dr. Charlie Glickman phones in to tell you everything you need to know about prostate play.
But first, it's sex toy review time! Emily's assistant Lauren shares some dirty details about her amazing night with her favorite sex partner and her brand new We-Vibe 4!
Next the Emily and Lauren move on to the backdoor discussion and address the stigma surrounding anal sex. Why are so many women still so afraid of anal? They weigh in on how to get past that one awful experience and give it a fair chance doing it the right way with the right partner. Lauren shares the story of her horrible first time, and how she bounced back and learned to love it.  She even gets Emily to open up about her first backdoor experience.
Some common questions get answered: Does it hurt? What does it feel like? Can you orgasm? What about the dirty stuff? They provide tips and tricks to make anal sex a fun, pleasurable time for everyone.
Next we have the master of prostate play Dr. Charlie Glickman call in to give his expert opinion, and provide a male perspective, on anal pleasure for men of all sexual orientations. That's right, straight guys, this one's for you, too! Charlie answers the questions on everyone's mind: What is the prostate? He tells us how to find and how to please it! When it comes to anal, are you a tight ass? From "anal breathing" to the importance of foreplay, Charlie's tips will help you relax and enjoy the ride!
From pegging to porn to the most beautiful butt plug Lauren has ever seen, this Podcast touches on all the hot backdoor topics! Don't miss out!
Special discounts for listeners of Sex With Emily:
Use coupon code GVEMILY20 for 20% off atGood Vibrations and coupon code EMILY for 20% off my Aromatherapy Massage Candle and DownUnder Comfort at Emily& Tony
Go to Promescent to make love longer.
Increase your stamina with the #1 selling sex toy for men, Fleshlight.
Stop by Hustler Stores in Hollywood or the closest store near you for all your kinky needs- Don't forget to mention "Sex With Emily" at the counter for 20% off your purchase.