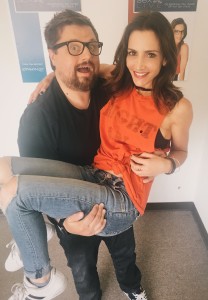 Today's show is packed with tips to help you solve a range of communication conundrums, from broaching the topic of new toys to concerns with STIs to unease surrounding your partner's orgasmic abilities.  
Finding it difficult to keep up with the hot new digital dating lingo? Emily and Menace go over a glossary of trending sex and dating terms, from ghosting to benching to haunting—Oh my! Then it's right into your emails about how to get past your partner's sexual history, confusion surrounding the female orgasm, and how to discuss bringing new sex toys into play.
Whether you're unsure how to open up an uncomfortable sex conversation, are struggling to hold onto your condoms, or you just want your partner to tune in to Sex With Emily, this podcast will surely get you talking!
---
Digital Dating Cheat Sheet: 
Benching 
As described by Jason Chen in New York Magazine, benching is when the person you're seeing continues to text you, Snapchat with you and send you memes on Instagram, but no longer commits to seeing you in person. It happens when someone is kind of into you, and the person texts you and responds to you just enough to keep you on the hook.
Benching is really just the extremely common misdemeanor of stringing someone along. It's also known as keeping your nets in the water, leading someone on, keeping your options open and saving up some backups for a rainy day. You could even call it passive ghosting.
Haunting 
Haunting is when a ghoster (a person who you were regularly interacting with, until they disappeared into the dating abyss) returns in the form of social media interactions — without being in touch directly with, you know, words. It was coined in a tweet by Tech Insider's Alyson Shontell. After slowly fading from your radar, this person resurfaces by actively liking your Facebook posts and Instagram pictures, viewing your Snapchat stories, giving you mixed signals and only a conclusion in the form of, "well, I guess they're alive." Some have said this is particularly painful. But unlike benching, they don't get in touch directly.
Sliding 
Sliding is a form of social media flirtation that happens when someone you don't really know sends you a personal message on social media. They "slide into your DMs (direct messages)." It's an action that, while seemingly inoffensive, is usually a little precocious, if not abrupt. It usually happens before you've indicated any interest, though you may have been interacting openly on, say, Twitter.
For example, an unknown person starts following you on Instagram. Later on, you post an attractive photo; suddenly there's a direct message in your inbox that reads "Hey cutie" (winky face emoji optional).
Tuning 
Tuning is flirting (usually online) in a way that skirts the possibility of being rejected and may lead to a booty call (or text). The person is sending signals in the form of Instagram or Facebook likes, text messages (if they have the other person's number) and Snapchats. Once there's been a back and forth, validating interest, a late night direct message could follow.
Passive Ghosting
"Passive ghosting" occurs a little while after you reach out to someone you've matched with on, say, Tinder, or Bumble, or Grindr. While the conversation may have been equally engaging at first, the quality suddenly decreases without warning. Their replies may be short, brief and come without reciprocal questions. You're putting in all the effort to keep the interaction going, and are receiving very little in return. It's hard to know why they may be doing this — it most likely means they're not engaged in whatever dating app you're communicating on, or they're putting all of their flirting energy into a conversation with someone else. 
Talking
Talking is a casual and noncommittal way of saying you've just started dating someone or "seeing each other." It can also refer to the interactions that take place in between matching with someone online and actually setting up a time to meet in person. Saying you're "talking" is a way of limiting expectations, a kind of "we'll see." The point is so neither of you is crushed if things don't work out. Read: "It's not like I'm devastated or anything, we were just talking…"
---
Can't get enough SexWithEmily?
Subscribe on iTunes and never miss your bi-weekly Sex With Emily podcast…
Special discounts for listeners of Sex With Emily:
Use coupon code Emily for 15% off at Good Vibrations and coupon code EMILY20 for 20% off at HustlerHollywood.com.
Explore new orgasmic experiences with the G-spot-loving Rave & dual-stimulating Nova by We-Vibe. Use code: EMILY for a special discount!
Increase your stamina with the #1 selling sex toy for men, Fleshlight. Use code: Emily to get a FREE bottle of Fleshlube with your purchase.
Looking for a new vibrating best friend? Find somebunny to love at The Rabbit Company! Use code EMILY at checkout…
Stop by Hustler Stores in Hollywood or the closest store near you for all your kinky needs- Don't forget to mention "Sex With Emily" at the counter for 20% off your purchase.