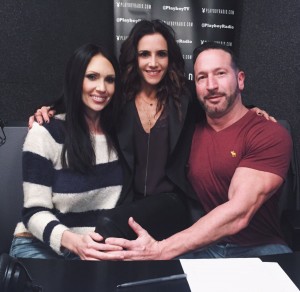 In this podcast, Emily is joined by married couple and real-life swingers Holli & Michael! This sexy twosome is used to sharing all the intimate details of living the "lifestyle" on their number one Playboy Radio show SWING, and today they're bringing all their romantic and sexual wisdom to the Sex With Emily studio.
So how did these sexy swingers start coloring outside the typical marital lines? Holli & Michael walk us through their love story, bust myths about typical swinging stereotypes and teach us how open relationships can often be the most connected and committed. Emily and the pair also talk healthy relationship tips and threesome etiquette, as well as how to squash jealousy for good and how to go from 'icy to spicy' in the bedroom.
Then, are you distressed about a dull sex life? Are you stuck in a cycle with a selfish lover? Or maybe you're looking to have a little fun with your partner and a third party? Holli & Michael help Emily answer your pressing sex and dating questions and address a standard stock of sexual issues along the way. Spoiler Alert: Compromise and communication are usually the key.
Whether you're looking for ways to improve your communication skills or hope on board the non-monogamy train, this podcast is sure to help your love and sex life in one way or another. Learn how to 'outsource your sex needs' and find out what a 'Unicorn' is on today's swinging show!
Want more Holli & Michael?
Follow them on twitter: @SwingTime69
or
Visit their Website: HolliandMichael.com