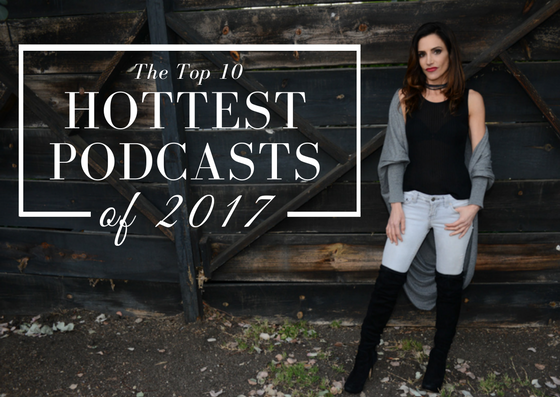 As December comes to a close, it's that annual time we find ourselves reflecting upon the greatest up's, down's and take away's this eventful year had to offer.
But we have to admit, here at Sex With Emily it's been a pretty fabulous one! From roundtables and rousing debate, to celebrity guests and more, we couldn't help but share in the ultra sexy roundup of most popular and provoking episodes from another cat calendar come and gone.
So before we kiss 2017 goodbye and kickoff all things ahead for the next, here's a toast to some of our best podcasts of the year:
It's the LadyFreaks meets familiar SWE faces for an epic panel discussion you can't afford to miss. As the gang chats it up about everything sex, dating and relationships, one thing's for sure—no topic is off the table. As if one could ever have enough tips about how to handle precious parts, toys and play of many types, this sexy symposium also goes to show where women's heads really are in the big mix of it all as well.
---
The dynamic duo is back again, doing what they love the most…taking your calls! Exploring never-ending debates when it comes to condoms, mismatched libidos, and how much porn/masturbating is "too much" (or if there is such a thing?), long-time cohorts Emily and Dr. Drew share their expert opinions by answering some of the hottest and heaviest listener questions to date.
---
It's Emily (and Anderson) to the rescue once again, here to assess some of the most inquired relationship mysteries, including toy rec's for same-sex couples, how to conquer orgasm with a partner and the ever-elusive question of whether to give your ex another chance. And not to mention, can too much porn actually cause problems elsewhere?
---
One of Emily's life missions is expressing the importance of self-love, so for this episode it's no surprise she and Anderson get to the bottom of that and so very much more. Discussing everything from how to launch yourself back into the dating world after a Chernobyl-level breakup and getting over sexy time shyness, to how your masturbation sesh can effect crossing finish lines with a partner, rest assured they leave no sultry stones unturned.
---
It should be newsflash to none that sex and dating questions don't always have a clear cut answer; but have no fear, Emily is of course here to help navigate relationships' roughest waters. Covering all there is to know about where to take things after a one-night stand, the art of pulling out and backdoor play with a timid partner, Em and Anderson as per usual have no shortage of sound and sage advice.
---
It's a trend alert for threesomes and swinging, but you may want to consider a few things before jumping straight in. While there's much to be said for embracing a little adventure, it's time we get into the do's and don'ts of dabbling with these sometimes tricky tides. Emily is joined by beloved co-host Menace as they give their two cents about all of this, plus circumcision protocol and the all too common lies we tend to hear when it comes to sex.
---
If there's one thing guaranteed, it's that an invasion of the Lady Gang makes for a podcast you'd definitely regret missing. As media mavens Keltie Knight, Jac Vanek and Becca Tobin join Emily in an epic down and dirty discussion, they delve deep into their own juicy dating and sexcapades. Hardly short on topics to tackle, the crew gives their take on mastering the path to second dates, being on the same sexy brainwaves as your partner, and recovering from post-cheating scandals.
---
We've been there, we've done that, and know the life-changing difference it can make learning how to get out of your own way in the bedroom and beyond. Good news – Emily's got you covered! Whether it's self-love, swiping, or sexily sounding off currently topping your list of biggest questions, you've reached a one-stop shop of tips and tricks galore. How to handle reaching your sexual peak, finding the happy middle between a hot sex and family life, and exploring the in's and out's of the ultimate dating app profile…we can assure you don't have to look any further.
---
Emily's back and this time joined for the first time by Hannah Cranston, host and executive producer of YouTube series Think Tank. The two get down to the confusing crux of sex and dating approaches a la Millennials—having less sex but being more experienced and open to its quirks, the ultimate list of things guys do that girls hate, preferring sleep over cuddling…did we mention it can be confusing?
---
Everyone knows her as a "Real Housewife", but we've quickly learned there's much more to Brandi Glanville than meets the naked eye. As the mom-meets-podcast host-meets entrepreneur joins Emily for a titilating talk of everything from where sexting lies on the cheating spectrum to dynamics of a long-term relationship, the idea of only being as old as you feel has never proven more true. And of course it's not a SWE party without a tell-all update about their own sex and dating lives, so whatever you do, don't let this one slip through the cracks.
Alex Anderson is an LA-based lifestyle designer proactively raging against the cultural grain. By day she works in television production, and by night enjoys writing, sewing and seeking guidance from the stars. She will also one day have a Norwegian Forest Cat named "Cher". You can follow her website (www.alexjanderson.com) and on Instagram (@AJAndMore)!