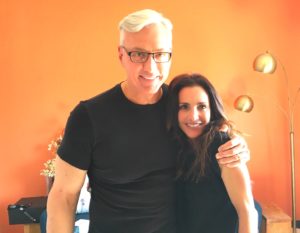 Emily and special guest Dr. Drew do what they love doing best: taking listener calls! In this week's show, Emily and Drew get to the bottom of each caller's issues, helping them solve their love, sex and relationship worries.
The two experts address common condom conundrums (how to stay hard!) and how to meet in the middle when it comes to mismatched libidos. Also, does your guy get his ideas of what sex should be like from watching too much porn and spending too much time masturbating? Are you stuck in a cycle of loving someone who has you in the friend zone, and if so, how do you move on? These specialists provide skillful responses to your most compelling questions, and have a lot of fun while doing it. Join us!
Click Here to subscribe to our weekly newsletter.
Special discounts for listeners of Sex With Emily:
Enhance your oral sex experience and become the dessert with JO's flavored Gelato lubricants…
Use coupon code Emily for 15% off at Good Vibrations and coupon code EMILY for 20% off at Sportsheets.com
Tighten and tone your pelvic floor for stronger orgasms with the Intensity by Pour Moi — My Kegel Camp app will help you stay on track!
Increase your stamina with the #1 selling sex toy for men, Fleshlight or check out the only FDA-approved delay spray Promescent to make love longer…
Explore the tantalizing world of prostate pleasure with the Black Pearl from Vibratex OR revisit an old classic, the Cadillac of all vibrators, the Magic Wand Original.