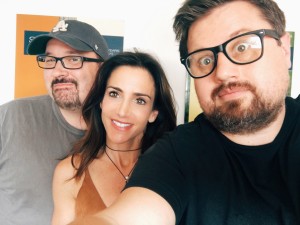 In today's show, Emily and Menace are joined by surprise guest Woody from the Woody Show! Together, the three tackle a range of sex and dating topics that are definitely NSFR: Not Safe For Radio.
Are you wondering how to turn your craigslist encounter into something more? Do you find yourself running out of steam mid-bj? How do you stop your relationship insecurities from becoming a self-fulfilling prophecy? Whatever your current struggle or strife, this show offers a variety of avenues to help you toward your solution. Emily, Menace and Woody also get into intimate dating details from their own personal lives and dissect the ever-changing millennial mindset.
Whether you're unsure about the effectiveness of your handies, want tips to land your dream girl, or are wondering if Orlando's penis is, in fact, in full Bloom, this show is sure to leave you more than satisfied.
Can't get enough SexWithEmily?
Subscribe on iTunes and never miss your bi-weekly Sex With Emily podcast…
Special discounts for listeners of Sex With Emily:
Enhance your oral sex experience and become the dessert with JO's flavored Gelato lubricants…
Use coupon code Emily for 15% off at Good Vibrations and coupon code EMILY20 for 20% off at HustlerHollywood.com.
Whip those pelvic floor muscles into shape for stronger orgasms with my Kegel Camp app.
Increase your stamina with the #1 selling sex toy for men, Fleshlight or check out the only FDA-approved delay spray Promescent to make love longer…
Looking for a new vibrating best friend? Find somebunny to love at The Rabbit Company! Use code EMILY at checkout…
Explore the tantalizing world of prostate pleasure with the Black Pearl from Vibratex OR revisit an old classic, the Cadillac of all vibrators, the Magic Wand Original