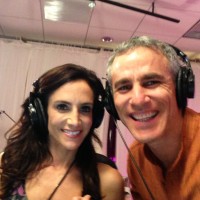 These days it seems like everyone is addicted to something. Whether it's a substance, a relationship, hot sex, or even our cell phones, we all have those habits that hold us back. On today's show, Emily sits down with addiction expert Tommy Rosen to discuss the different forms of addiction, recovery and the path to better sex and better relationships.
From a well-known party boy and ladies man to a happily married pioneer in the field of yoga and recovery, Tommy shares his tale of addiction, codependency and the road back to sobriety. He and Emily touch on some common relationship issues that couples face, including sexual chemistry, intimacy and the trouble with building a relationship solely on great sex. They also answer a listener email on how to recover from a random breakup. Can exes make the transition from lovers to friends? The two discuss, and share advice.
Then it's on to some sex in the news. What prestigious Ivy League is providing students with "Backdoor Education?" Apparently colleges everywhere are opening up to anal sex. Emily shares some stats on the nation's latest dating addiction and answers the question "why are we all so obsessed with Tinder?"
Whether you're building a healthy relationship, moving on from a bad one, or finding the confidence you need to face your dating fears, this Podcast teaches you how to grow and prosper. Don't miss out!
If you want to learn more about Tommy's work in the field of Yoga and Recovery, check out his new book: Recovery 2.0: Move Beyond Addiction and Upgrade Your Life!

Can't get enough SexWithEmily?
Subscribe on iTunes and never miss your bi-weekly Sex With Emily podcast…
Special discounts for listeners of Sex With Emily:
Use coupon code GVEMILY20 for 20% off at Good Vibrations and coupon code EMILY for 20% off my Aromatherapy Massage Candle and DownUnder Comfort at Emily& Tony.
Go to Promescent to make love longer.
Increase your stamina with the #1 selling sex toy for men, Fleshlight. Use code: Emily to get a FREE bottle of Fleshlube with your purchase.
Stop by Hustler Stores in Hollywood or the closest store near you for all your kinky needs- Don't forget to mention "Sex With Emily" at the counter for 20% off your purchase.