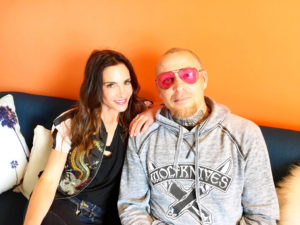 As we progress in time, space and science, we're also making progress in the way we understand sex and relationships. On today's show, Emily is joined by modern renaissance man and radio show host, Jason Ellis, and the two are talking open relationships, masturbation, threesomes and answering your emails!

Jason hosts his own radio show, fights MMA, is a professional skateboarder and he's currently enjoying an open relationship with his fiance—and the two couldn't set a better example of open communication. Emily and Jason help listeners figure out whether an open marriage will solve their own marital issues, how to keep jealousy from joining a threesome and give some hot toy suggestions for oral. Plus, the pair discuss Jason's own sex life (masturbation included). Nothing is off limits with these two, so tune in!
For more information on the topics discussed on today's show, check out these links!
THREESOME CHECKLIST: ARE YOU READY TO RIDE THE TRICYCLE?
OPEN RELATIONSHIPS & WHAT YOU CAN LEARN FROM THEM
BREAK UPS, HOOKUPS & OPEN RELATIONSHIPS
BLACK PEARL: ELEVATED PROSTATE PLAY
WHIPS, TICKLERS AND FLOGGERS, OH MY! AN INTRO TO SENSATION PLAY
For more information about or to purchase the products mentioned in this podcast, click below:
System Jo: Get free System Jo lube!
Audible: Check out Where Should We Begin?  A new original series from Esther Perel available now on Audible Channels.
FT GRing: Pleasure at your fingertips.
Womanizer with Pleasure Air Technology: The toy that changed everything.  
Can't get enough Sex With Emily? Click Here to subscribe to our weekly newsletter.