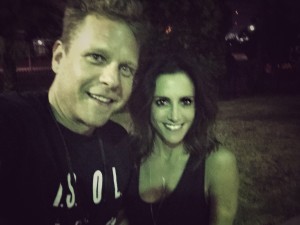 If there's one thing we can be sure that everyone wants, it's better sex. This show is all about elevating your sex life, finding out what makes you (and your partner) feel good in bed! Whether you're in search of the perfect position, having toy troubles, or are just looking to spice it up, Emily's got the answers for you on today's Sex With Emily podcast!
But first, Anderson shares a traumatic childhood Christmas story and Emily fills listeners in on what's new in her dating life, and gives a shout out to all the fans Down Under.. Then it's on to Sex in the News, including talk of hot spring orgies and how running might actually affect your sex drive! Does your runner's high extend to your private parts?
Then Emily helps a few listeners looking to increase their enjoyment level in the bedroom. Do you know how to prime yourself for sex toy play? Are you and your partner considering entering into the sometimes unsettling land of threesomes? Maybe you're just looking for a more pleasurable position to try? Emily discusses the in's and out's of threesomes and provides a step-by-step guide to her "perfect sex position," the Coital Alignment Technique. Aren't you a little bit curious about what the C.A.T. position can do for you?
This show is rich with fun stories and vital information for your sex life improvement. From romancing yourself to pleasuring your partner to incorporating sex-ed into your household dialogue, this Sex With Emily podcast is not one to miss!
Can't get enough SexWithEmily?
Subscribe on iTunes and never miss your bi-weekly Sex With Emily podcast…
Special discounts for listeners of Sex With Emily:
Use coupon code Emily for 15% off at Good Vibrations and coupon code EMILY for 20% off my Aromatherapy Massage Candle and DownUnder Comfort at Emily& Tony.
Go to Promescent to make love longer.
Increase your stamina with the #1 selling sex toy for men, Fleshlight. Use code: Emily to get a FREE bottle of Fleshlube with your purchase.
Stop by Hustler Stores in Hollywood or the closest store near you for all your kinky needs- Don't forget to mention "Sex With Emily" at the counter for 20% off your purchase.