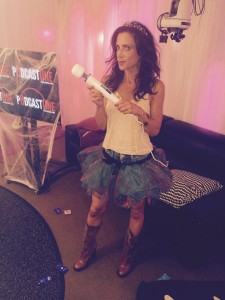 In honor of Halloween, this show is all about those freaky sex situations you may find yourself in. Emily the Orgasm Fairy, armed with her Magic Wand, provides guidance to help you survive even the scariest sexual mishaps.
Speaking of scary – Emily and Anderson discuss the sad state of sexual education in schools, and why many of today's youth are turning to porn for their sex ed. Emily makes her case for masturbation education – The kids need to know the truth! Also, a lively discussion on  confusing euphemisms for the female anatomy: Princess parts, Muffins and VaJayJays, oh my!
Then it's on to the freaky stuff! Emily tells you how to handle some of those horrifying sex happenings, from unusual kinky sex requests to inappropriate dirty talk to the unwelcome wandering finger of doom. Now when a new partner asks you to punch them in the face or wants you to get on board with a golden shower, you'll know exactly how to deal!
The duo swaps spooky sex tales, including Anderson's 8th grade closet nightmare and Emily's experience with accidental anal. Plus, Emily shares tips to recover from an awkward sex injury and Anderson explains why sometimes you need to take the hit for the Big O.
From the crazy online dater stuck in your chimney to the worst masturbation mishap you've ever heard, this Podcast will thrill you, chill you and prepare you for the scariest sexual circumstances. Listen at your own risk ;)
Can't get enough SexWithEmily?
Subscribe on iTunes and never miss your bi-weekly Sex With Emily podcast…
Special discounts for listeners of Sex With Emily:
Use coupon code GVEMILY20 for 20% off at Good Vibrations and coupon code EMILY for 20% off my Aromatherapy Massage Candle and DownUnder Comfort at Emily& Tony.
Go to Promescent to make love longer.
Increase your stamina with the #1 selling sex toy for men, Fleshlight. Use code: Emily to get a FREE bottle of Fleshlube with your purchase.
Stop by Hustler Stores in Hollywood or the closest store near you for all your kinky needs- Don't forget to mention "Sex With Emily" at the counter for 20% off your purchase.