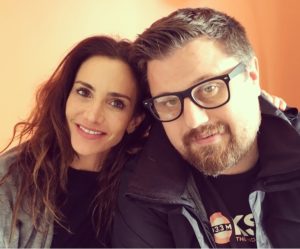 Welcome to Emily's favorite month of the year! She and special guest Menace kick off May, the official Month of Masturbation, by taking your calls and getting to the heart of your issues and giving you a special challenge to make the most of this month's theme.
Tune in for tips for taking you out of your mundane, routine masturbation habits. Also, they talk to a caller who wonders how he can please his self-professed asexual girlfriend and a woman who was surprised by her post-orgasmic tears. Plus, Emily gives a newbie some solid blow-job tips and convinces a guy that there's absolutely nothing wrong with his wearing thong underwear. Click, subscribe and get in on the action!
For more information on the topics discussed on today's show, check out these links!
BLOW JOB TIPS TO TRY TONIGHT!
3 STEPS TO MASTURBATION MASTERY
THE TRUTH ABOUT MASTURBATION
MASTURBATION: GREAT AND GREAT FOR YOU!
LUSTLESS LOVER (ASEXUAL AWARENESS DAY)
Click Here to subscribe to our weekly newsletter.
Special discounts for listeners of Sex With Emily:
Enhance your oral sex experience and become the dessert with JO's flavored Gelato lubricants…
Use coupon code Emily for 15% off at Good Vibrations and coupon code EMILY for 20% off at Sportsheets.com
Tighten and tone your pelvic floor for stronger orgasms with the Intensity by Pour Moi—My Kegel Camp app will help you stay on track!
Increase your stamina with the #1 selling sex toy for men, Fleshlight.
Explore the tantalizing world of prostate pleasure with the Black Pearl from Vibratex OR revisit an old classic, the Cadillac of all vibrators, the Magic Wand Original.