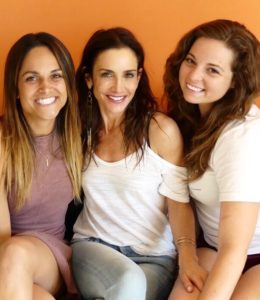 If Emily had her way, there would be a bottle of lube on every night stand all across the world. From flavored, to warming to all-natural ingredients, there's a lube out there for everyone to enjoy! On today's show, Emily is joined by her trusty team and an honorary member from System JO, Brie, to talk about all things lube, pubes and so much more!
Are your partner's pubes a deal-breaker? Have you found your g-spot, but are still on the search for your clitoris? How do you get your military man in the mood for making love more often? Emily, Halina, Jamie, and Brie give their insight on these common issues and more. Plus, they give the lowdown on the many ways lube has enhanced their sex lives, and why pubic grooming remains the hairy situation it is. Let this show slide into your speakers!
For more information on the topics discussed on today's show, check out these links!
ALL ABOUT THE V: AN IN-DEPTH GUIDE TO HER LADY PARTS
WHEN PICTURE PERFECT ISN'T PERFECT: THE REALITY OF MISMATCHED LIBIDOS
ORGASMLESS IN THE CITY
ORGASM ORIENTATION: YOUR GUIDE TO THE FEMALE "O"
For more information about or to purchase the products mentioned in this podcast, click below:
We-Vibe Pivot: This is the Ring you've been waiting for.
Fleshlight: The #1 Sex Toy for Men
Adam & Eve: Sex Toys and Savings.
Magic Wand: There's a Reason Why it's Magic.
Can't get enough Sex With Emily? Click Here to subscribe to our weekly newsletter.