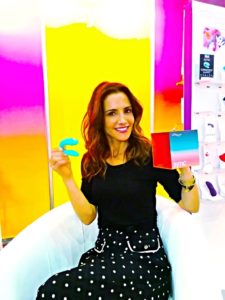 When it comes to sex toys (and masturbation in general), it's the women who tend to steal the industry's focus. However, men can also benefit from a little extra stimulation—with a partner or by themselves! On today's show, Emily is speaking with We-Vibe's Global Passion Ambassador, Tristan Weedmark, about how their brand is making sure everyone is getting what they need. Oh, and she's answering your emails, of course!
Why use lube during oral if you have saliva? Is dating your hot housemate really the best idea? How do you last longer when your ex conditioned you to a "hard and fast" sex life? Emily settles these sex and dating debates, plus she gives a rundown of fun, sexy and surprising facts about good ol' masturbation. Whether you're considering giving sex toys a first try, you want to improve your masturbation routine or you want to know just how dirty the British are, this show pulls out all the stops. Don't miss it!
For more information on the topics discussed on today's show, check out these links!
LUBRICATION COMMUNICATION: SWE TEAM TELLS ALL
ORAL SEX IS FOR (SELF)LOVERS: AN INDEPENDENCE DAY CELEBRATION!
ORAL SEX TIPS TO SPICE UP YOUR 69 DAY
5 WAYS TO PREVENT PREMATURE EJACULATION
For more information about or to purchase the products mentioned in this podcast, click below:
We-Vibe Pivot: This is the Ring you've been waiting for.
System Jo: Get free System Jo lube!
Intensity: Change your life.
Sportsheet: Easy to pack items for a hot vacation!
Can't get enough Sex With Emily? Click Here to subscribe to our weekly newsletter.